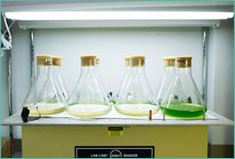 About Us
Vyas Bio Life Science is established by a group of veterans with vast knowledge in chemical industry with an objective to provide various intermediates, Fine chemicals and bulk drugs
of best quality to the Chemical and Pharmaceutical Industry at right time and right price.
Our Core values are long term association with Customers and Suppliers,positive attitude, teamwork and innovation in working to achieve operational excellence.
Vyas Bio Life Sciences is engaged in manufacture, sourcing, distribution and development of quality intermediates, Fine Chemicals and Bulk Drugs to the needs of global Life Sciences Industry. Vyas Bio Life Sciences is a one-stop source for Research and Fine Chemicals and trying hard to improve our services day by day for customer's delight.